Designed by Archilier Architecture, the Qingdao Hai Tian Center, containing the tallest building in China's Shangdong Province saw its last piece of curtainwall unit installed on Thanksgiving Day, 2020.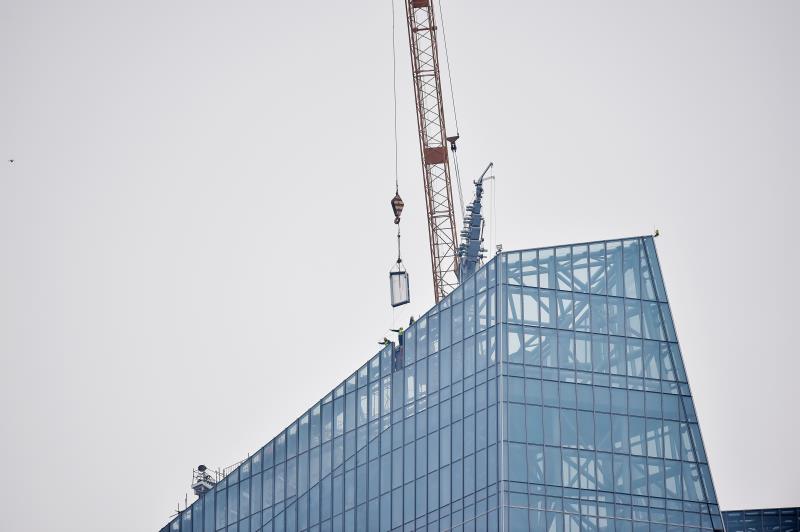 The design concept "Rhythm of the Sea" was conceived to reflect the project's seaside location as well as the design of the historic Hai Tian Hotel which had previously stood at the same site. The tower design introduces a twist to the original hexagon plan motif of the Hai Tian Hotel, making incremental shifts to the tower's shape at both the northern and southern tips of the floor plan. The tower volume grows and rotates gradually as it ascends, completing a rhythmic curve to echo the motion of the ocean's waves. Knowing that this continuous shifting movement can be complex in comparison with the standard glass box, we strived to rationalize and simplify the unit design to maximize the standard conditions and unit types.
The tower's façade is composed of 17,934 unitized panels, for which we designed 4 major types: 1) Standard tower units; 2) North/South corner units; 3) Standard Four corner units; and 4) Connecting units. Working together, these panels of limited variety can create an extremely dynamic façade.
In addition, the three towers that make up most of the complex each serve a different function, thus necessitating different treatment and articulation to address the distinct needs of each tower.
Tower 1 and Tower 3's façade design emphasize horizontal lines with angled window placement (east to west), as an homage to the original Hai Tian Hotel building. Both towers must comply with operable window codes while Tower 3 must also adhere to the residential apartment related code requirement.
We look forward to the opening of Hai Tian Center by the end of 2021, when it will officially become the beacon of Qingdao.